An Elephant Adventure to Trace the Bali Nature
Welcome to the popular adventures in Bali Island, the Elephant Ride and Attraction with the marvelous and the impression adventure by taking a ride on elephant at the same time encircle the Bali nature makes your holiday in Bali full of memory. This adventure is covering you to take a ride on the elephant and see the humorous elephant attraction in Bali which you earn to experience in two different places that we serve to you as adventure choices. The Elephant Safari Park at Taro, Bali Safari, Bali zoo and Bali Elephant Camp are the choices elephant adventure company giving you the satisfaction with its excess as value added on your elephant adventure in paradise island of Bali.
Elephant Camp Price Information

Elephant riding program




(photo shoot is by your own camera)

Program price (Family Package Adult 2+Child 2)

Adult

Child

Family Package

Elephant watching + photo shoot (No Transfer)

15 min

US $ 15

US $ 15

(Not applicable)

Elephant ride + Watching + photo shoot

15 min

US $ 50

US $ 170

Elephant ride + Watching + photo shoot

30 min

US $ 62

US $ 43

US $ 198

Elephant ride + Watching + photo shoot

40 min

US $ 79

US $ 55

US $ 255

Elephant ride + Watching + photo shoot

60 min

US $ 99

US $ 63

US $ 315

* Includes: Hotel free pick and drop service / lunch / elephant camp visit / Photography / Companies Insurance
* Child Policy: Children 6 to 13 years old / Infant: 0-5 years (elephant apply all $ 30 from riding)
* Elephant Show tour (15 min.) The program is subject to a $ 15 charge per person.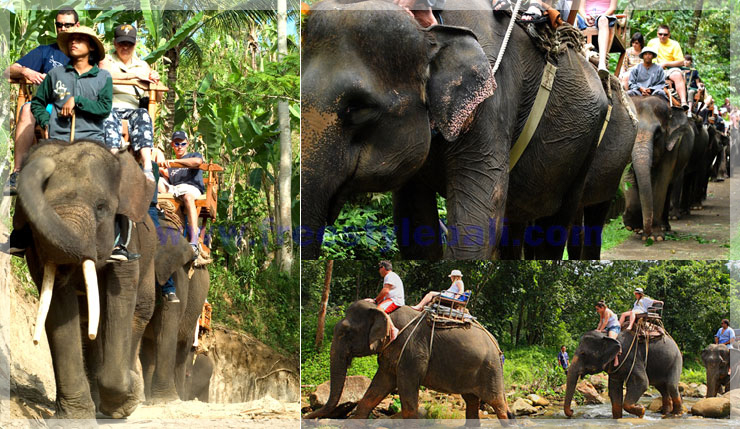 ______________________________________________________
Bali Zoo's Gentle Giants
Your trip through one of the best new elephant trails in Bali begins at our 100-year old traditional Sumatran buffalo house (kandang kerbau) that also serves as our comfortable boarding area.
From a comfortable bench seat perched atop one of our Sumatran elephants you'll be driven by one of our experienced mahouts through a scenic pathway that winds through parts of the zoo then outside the park where you can see where our elephants sleep and bathe.
Your journey continues through the nearby wilderness as you cross the Wos River on elephant back and then visit a natural waterfall and grassy valley. At our Bale Bengong pit stop along the way you may disembark for a refreshing young coconut drink and short trek up a hill to visit the area's oldest village temple in the area that dates back over five centuries. After your ride is over we invite you to hand feed and pet our amazing elephants and then enjoy lunch at our Wana Restaurant where you'll sit only meters from our African lion den. Zoo Explorer and Animal Encounter Sessions also included.
Bali Zoo Elephant Camp Program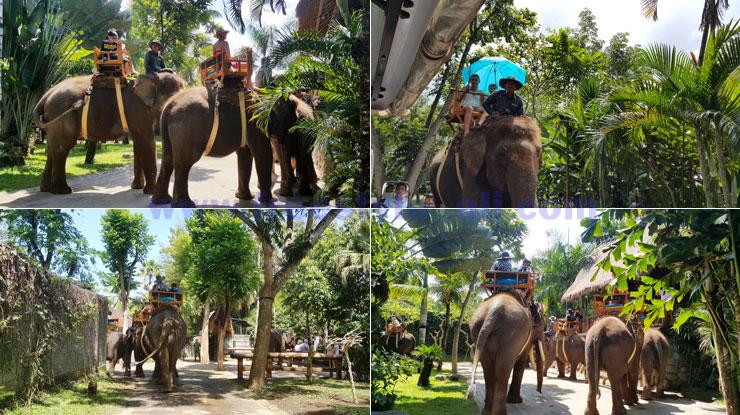 BALI ZOO Elephant tour package
▶ Elephant riding for 30 minutes : Adult Rp. 945,000 (about U$ 72 ) —> Rp. 800,000 (about U$ 60)
Children Rp. 675,000 (about $ 51)—–> Rp. 590,000 (about $ 45)
Includes -> Elephant rides for 30 minutes (Price Is not included transfer, beter to go while ubud day tour)
                -> Animal Watching
                -> Insurance 
            
▶ Elephant + Safari Package A : adult Rp 1,378,000 (about U$105  ) —–> Rp. 1,150,000 (about $ 87)
                                            for children   Rp 998,000 (about U$75 )———-> Rp. 850,000 (about $ 64)
included> Return Hotel Transfer
               -> Elephant riding 15 minutes
               -> Lunch
               -> Zoo tour and animal sightseeing
               -> Animal show 
               -> Jungle water play 
               -> Insurance
▶ Elephant + Safari Package B : Adult Rp. 1,580,000 (about U$120 ) —–> Rp. 1,300,000 (about U$ 99)
                                            for children Rp. 1,175,000 (about U$89)———> Rp. 990,000 (about U$ 75)
Included> Return Hotel Transfer
               -> Elephant riding 30 minutes
               -> Lunch
               -> Zoo tour and animal sightseeing
               -> Animal show 
               -> Jungle water play
               -> Insurance
[Elephant A, B Pickup included in package: 8.30 am to 9 am / Kuta, Seminyak, Nusa Dua, Sanur , Ubu area available]
______________________________________________________
Elephant Safari
For a shorter adventure trek, try our Elephant Back Safari that leads your through our tropical zoo panorama where you'll hear the screech of our gibbons mingled with birdsong from our aviary. After visiting the same bathing pool and elephant habitat you'll return via a picturesque route through our lush jungle gardens with a view of several animal domains along the way.
______________________________________________________
Bali Adventure Elephant Ride
An official member of the World Zoo Association, the Park meets International Standards for animal care and is set in more than 2 hectares of exotic Eco tourism landscaped botanical gardens, surrounded by national forest. Acclaimed as the World's Best Elephant Park, facilities include a full Reception and Information Center, a comprehensive Museum, with a large collection of elephant memorabilia and the only Mammoth Skeleton in South East Asia.
Without a doubt the Elephant Safari Park in Taro is a MUST for visitors to Bali, and is the ONLY complete elephant experience in the world – making it truly unique.  Get up close and personal with these incredible animals in a beautiful tropical park setting.Elephants can be seen immersing themselves in the park lake, in between riding, painting or other activities.  Hand feed them, touch them, take photos with them, then learn more about the elephants ancestry and diversity at the parks historical and graphic displays.
______________________________________________________

The Elaphant Back Bali Safari.
For a unique and exciting experience this holiday, Bali Safari & Marine Park's Elephant Back Safari has become an integral part in your visit to Bali. The Elephant ride offers a breathtaking experience as the largest land mammal in the world takes you on an extraordinary and exhilarating journey around an African Themed Panorama. The elephant ride is provided with a comfortable saddle and guests will be seated behind an experienced elephant handler as the elephant back safari will last around 30 minutes.
The Elephant Back Safari Journey not only offers and exciting experience, but it also allows guests to enjoy the tranquillity as the elephant ride includes a one of a kind elephant bath in the Mara River, adding a plus point in your safari experience. Through the elephant ride, guests will have the chance to immerse in the pristine environment with the herd and have the opportunity to intimately engage and interact with elephants as well as other free-ranging African animals in the area such as the infamous zebras, wildebeest and rhinoceros. The enjoyment of the elephant ride lies in being at one with nature and the surrounding wildlife.
The best part of the Elephant Back Safari is the exclusive and educational insight from our highly qualified and interpretive elephant handlers. Our elephant herd is cared for by a special group of men, who treat the elephants like one of their own. Like humans, each elephants develop their own unique personalities throughout their long lives. Seated comfortably on the back of these gentle giants, the elephant ride offers guests a chance to learn about nature's true "king of the beasts" through understanding their natural behavior, intelligence, habitat and conservation. These largest of land mammals are keystone species on whose conservation the existence of many other aspects of biodiversity depends.
______________________________________________________
Bali Elephent Camp
If you want to become friends with a great Sumatran elephant, then try our shorter Adventurer Trek! You get to experience the beautiful landscape of our camp as well as venturing out for a trek along the edge of the valley… The views are incredible, so bring your camera! You may also get to see monkeys and tropical birds in their natural habitat. Look down at the raging Ayung River and discover how much fun riding an elephant can be.
As part of our efforts to conserve this magnificent species, we'd like you to learn more about them, go trekking and experience life with our incredible elephants! By riding our elephants you help us help other elephants in Sumatra by providing funds for food and land to make sure their homes remain protected.
| | |
| --- | --- |
| *.21% Government tax and service charge *.Professional Mahout *.Entrance Fee *.Safety Equipment | *.US$ 50.000 insurance cover *.1 complimentary soft drink *.Lunch *.Round trip hotel transfer |
| # These rates are only applicable for booking via Freestyle Bali Tours. | #Family Package (2 Adult + 2 Children under 12 years old) |

Pick Up Time
| | | |
| --- | --- | --- |
| Morning | Midday | Afternoon |
| 08.00 – 08.30 | 09.00 – 09.30 | 11.00 – 11.30 |