The Spas of Bali offer many different massages [Balinese, Indonesian, Thai, Shiatsu from Japan], body wraps, polishes and scrubs [including the Royal Javanese Lulur and the Balinese Boreh], Chinese Reflexology and many Ayurvedic styles of treatment in good quality and reasonable price.
We understand there is too much stress in most people's life, and over many years this pressure makes you forget how to smile, forget how to breathe, feeling tired most of the time and having no energy. Get spa and massage treatments help to bring you back to harmony and make you feel rejuvenated.
"Enjoy Tropical Spa in Bali"
Enjoy  tropical and fresh natural traditional Balinese treatment. Your heart and body will be healed by the treatment and you can spend the elegant and luxury time. There are a lot of Massage shops in bali but we would like to recommend the best and famous massage and spa.
 Bali Ratu Spa
Bali Ratu is based in location Kuta, and Ubud. The elegant interior combines style and beauty to create a tranquil retreat for visitors to Bali. Professional therapists deliver a range of treatments based on traditional Indonesian beauty and health care techniques using freshly prepared product and essential oils. Spa treatments include facials, manicures, pedicures and bodywork treatments range from one hour refreshing massages to three hours ofpampering for the hair, face and body. Treat yourself to a truly unique tropical spa experience. We are The Freestyle Bali also have special package of cheap price for your treatments in Bali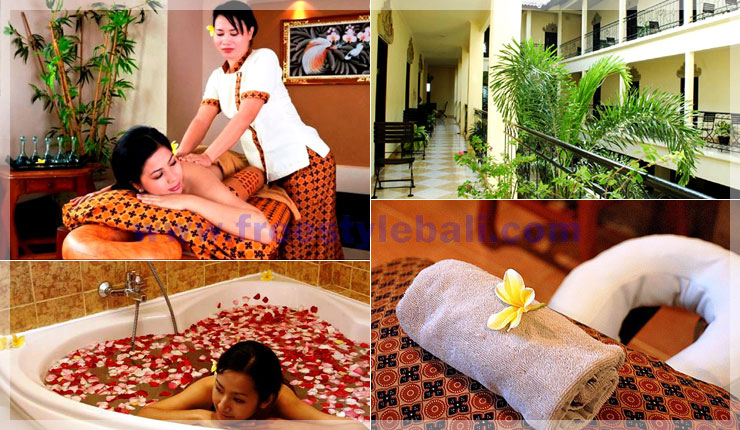 Freestyle Bali Ratu Spa Special Price:
  $67 → $45/1 Person
Aroma Theraphy Body Massage (2 Hours)
  $75 →$50/1 Person
Aroma Theraphy Body Massage + Body Scrub + Flower Bath (2 Hours)
  $75 →$50/1 Person
Aroma Theraphy +Body Scrub+Silky Milk Bath + Flower Bath (2 Hours)
  $75 →$50/1 Person
Chocollate Theraphy Body scrub Massage + Body Massage Flower Bath (2 Hours)
  $75 →$50/1 Person 
Stone Theraphy Body Massage 2 Hours + Flower Bath (2 Hours)
공통 진행순서 : 발씻기 – 오일 선택 – 바디스팀 – 바디 마사지(패키지별+스크럽/밀크보습/ 마스크/스톤) – 꽃욕조 – 샤워 – 생강차
프리스타일 발리 프로모션 특별혜택(2인 이상 예약기본)
각 가격정보는 현금 지불 기준으로 15% Tax 면제된 가격입니다.
카드결제 시 업체기준 +15% Tax 추가 포함됩니다.
주요지역 호텔별 무료 픽업&드롭 서비스(오전10~밤11시)지원됩니다.
(우붓 등 중부지역 호텔 투숙시 해당지역에서 꾸따 본점으로 이용시 유료적용)
Rumah Wangi spa
One of few popular massage and spas in Bali where you can get the best care at a reasonable price. Located in the Tuban area, close to the airport, free pick-up and drop service is available in some central areas, and  the experienced therapists, It will be a great opportunity to heal.
(Free Pick up service:  Kuta – Seminyak, Jimbaran, Sanur, Nusa Dua area!)
PACK (W-1) $ 55 → $ 45 / person

 

Dream Detox Massage / 2 hours (30 minutes of candles + 90 minutes of shiatsu massage OR 90 minutes of aromatherapy massage)

PACK (W-2) $ 66 → $ 53 / person

 

Anti-aging massage / 2.5 hours (Warm Stone 75 min + Coffee Body Scrub 20 min + Flower Bath 15 min + Intensive Foot Massage 40 min)

PACK (W-3) $ 55 → $ 45 / person

 

Thai Herbal Therapy / 2 hours (Thai Massage + Herbal Therapy)

PACK (W-4) $ 70 → $ 55 / person

 

Signature Wellness Massage / 3 hours (Aromatherapy Massage 2 hours + Foot Massage 60 minutes OR Hair Spa 60 minutes)

PACK (W-5) $ 70 → $ 55 / person

 

Lovely massage / 3 hours (2 hours of acupressure massage + 60 minutes of foot massage OR 60 minutes of OR Hair Spa)
Common procedure: Foot washing – Massage for each package – Ginger tea
Freestyle Bali Promotion Special Discount (based on reservation for 2 or more people)

Cash and card payment price (including tax).

Free Pick-up & Drop Service

Re-check reservation
in
Bali is mandatory !!
After arriving in Bali subscribers to the program must be conducted one day prior Freestyle Bali reservation charge once again to (Hangul characters: 010-7232-5960) or the local manager Jack (+ 62-81-557-77727 Jack) reconfirm must . If you do not confirm it locally, it will be considered as automatic cancellation. This is because all tour programs are paid on a postpaid basis based on customer trust.
If you cancel your reservation due to unavoidable circumstances, you must notify the reservation person by e-mail or phone in advance one day in advance to prevent damage to each other. (100% penalty will be charged for cancellations on the same day)